Minimum Server Spec
4GB RAM
2 CPU Cores
80GB disk
Windows installs have been tested and verified on the following version:
Windows 10, 11
Windows Server 2016, 2019, 2022
Note: VT Docs requires port 443 for users to access the application from web browser.
Installing VT Docs
To install VT Docs on Windows download the .exe file from here:
https://visiblethread.s3.amazonaws.com/public/download/vtdocs_windows-x64_5_0_2.exe
To verify that the download was completed successfully, you can check the hash:
certutil -hashfile vtdocs_windows-5_0_2.exe SHA256
The valid SHA256 Hash is:
b9b8731f5f788fdde4fbd65f0df8ce93b3d27710db72ae96c67ae2e961db140c
VT Docs requires a HTTP server. There are two ways to deploy VT Docs with a HTTP Server:
Install Apache HTTP server as part of the VT Docs installation
Use Windows IIS server and configure it to work with VT Docs.
Install Using Apache Web Server
Run the install file and follow the install wizard instructions. Install instructions to note are the steps of installing a web server as a reverse proxy. If you wish to use Apache web server make sure the box is checked. All configuration for Apache web server will be done as part of the install.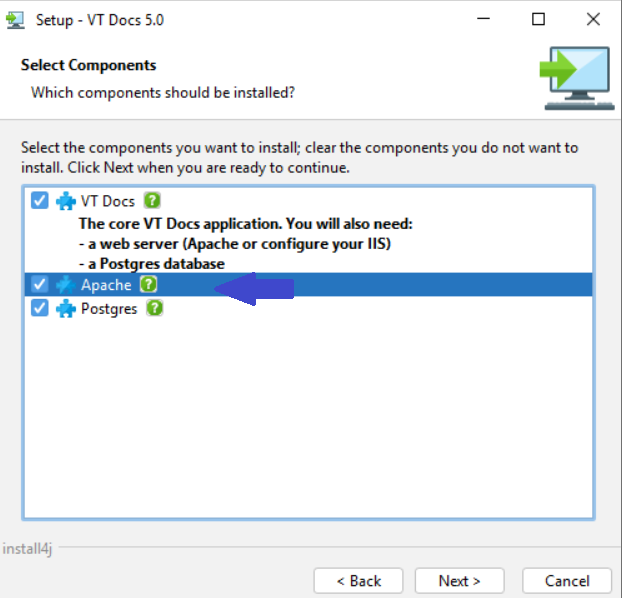 Install Using IIS
If you wish to use IIS as a reverse proxy and for SSL termination make sure to uncheck the "Apache" box. We do NOT configure IIS as part of the install. Once the install wizard has finished, please follow this guide to configure IIS to work with VT Docs: IIS As Reverse Proxy For VT Docs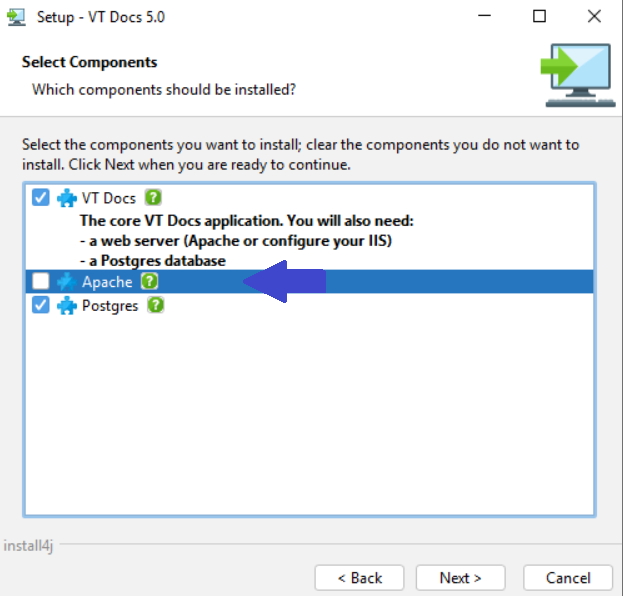 If you have any issue with your install please contact us at support@visiblethread.com