Prerequisites:

You must first upload your license file to the VT Docs server. Port 8080 will open up once you license VT Docs.

You must install the required extensions for URL Rewrite and APR in Microsoft IIS.
This guide assumes you are using Microsoft IIS 7
Step 1 Creating a Server Certificate

Note: Step 1 only needs to be done if you don't have an SSL cert for your server already.

1. First step is to create a SSL cert for the VisibleThread Doc server via Microsoft IIS
Open your Microsoft IIS server and navigate to the "Server Certificates" node and double click it.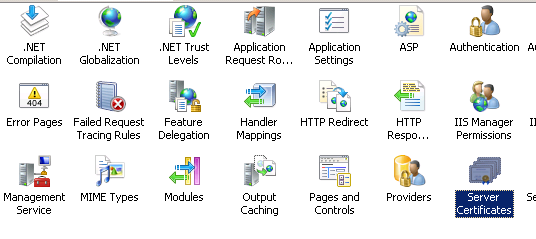 2. In the pane on the right hand side of the window you will see options for creating an SSL cert. For this example I will use a Self-Signed Certifiacte.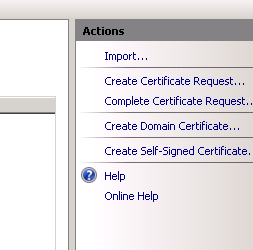 3. Click on "Create Self-Signed Certificate" it will prompt you for a friendly name for the cert. Choose a name and hit "ok" and your cert is created.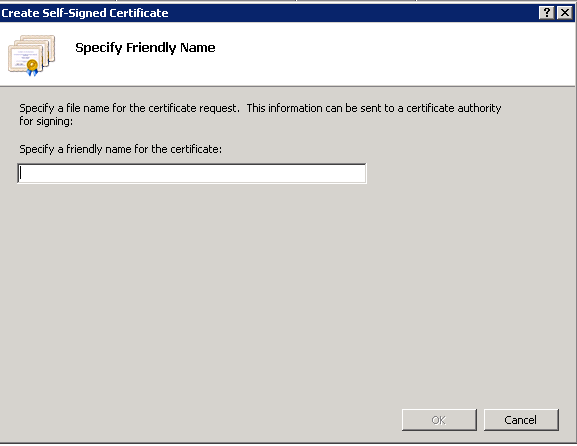 Step 2 Creating a Web-Site

1. To create a Web-Site click navigate to "Sites" in the left pane.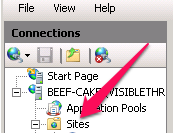 2. After clicking on "Sites" you will see "Add Web Site…." In the pane on the right.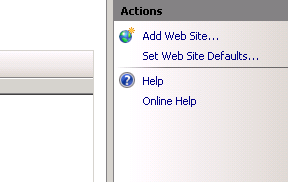 3. Click on "Add Web Site…." A window will prompt you for information for your new site.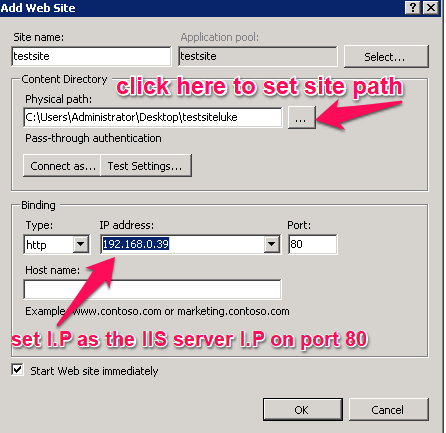 4. Click "ok" once all relevant information is filled out. Your site is now created.

Step 3 Setting up the reverse proxy

1. To set up the reverse proxy navigate to your new Web-Site and double click on it, this will open all available nodes for your site. Double click on "URL Rewrite".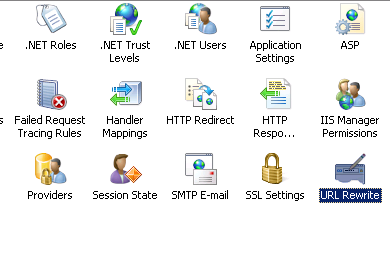 2. After opening "URL Rewrite" add a new rule by going to the pane on the right and clicking on "Add Rule(s)…."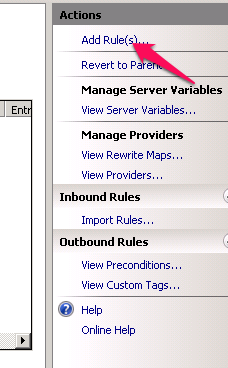 3. Now choose the "Reverse Proxy" option and click "ok"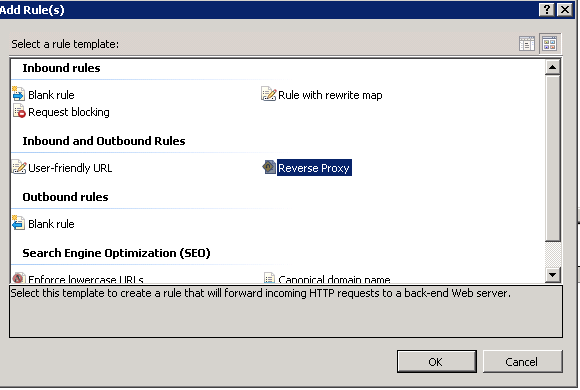 4. Enter the I.P port (8080) of your VisibleThread Doc server and make sure the
"Enable SSL Offloading" box is ticked. Click "ok". Address must be http://ipaddress:8080/dashboard/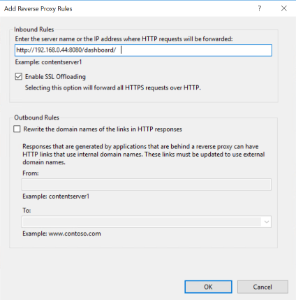 5. To test navigate to your site by clicking on it in the left pane and you will notice now in the right pane there is a "Browse Web Site", click on the address.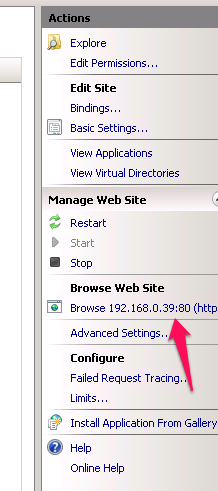 You should see the login pageif your VisibleThread Doc server.

Step 4 Setting up SSL encryption and port 443

1. To set up SSL encryption and port 443 we just need to add a new binding. Navigate to your Web-Site and you will see in the right pane "Bindings…." Click on this.



2. A window will open and prompt you for information. Where it says "http" this is a drop down click here and select "https". Now specify the I.P of your IIS server and by default port should be set to 443 if not set it to 443. At the bottom of the window there is another drop down menu for you to select which SSL cert you wish to use, select your cert. Now click "ok"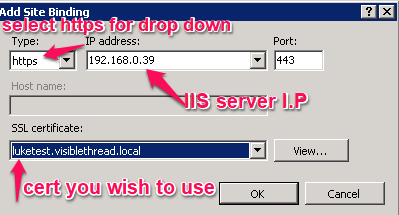 3. Navigate back to your site and in the right pane you will notice a new link to browse to under "Browse Web Site"



4. Click on the new https link to test if your SSL is working it should take you to the same page with SSL encryption.