Cloud Release September 20th 2021
On-Premise availability November 15th 2021
VT Readability 3.1 is an on-premise and cloud release that combines the improvements in the cloud-only release 3.0 along with new improvements in release 3.1
Grammar Issues
Writer 3.1 introduces a new capability to check for writing errors. The types of writing errors Writer 3.1 can check for include: Capitalization errors, typos, punctuation errors, grammatical errors. These are all categorized and displayed under the 'Grammar Issues' category in the Writer UI.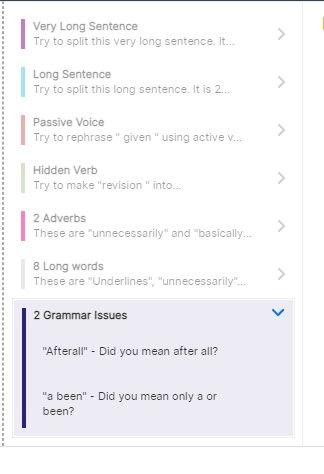 Keep Editing Session Alive
This is an important feature for anyone editing text snippets in VT Writer. Before this update, if your session timed out while editing a text snippet, you would lose your text edits.
Now, VT Writer will prompt you to keep your editing session active while you work for longer periods.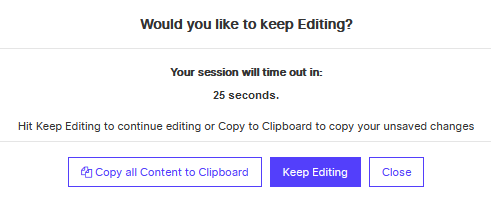 Clicking the "Keep Editing" button will keep your session active for longer. As your session nears expiring again, VT Writer will prompt you again to keep your session alive.
What if you are away from your computer and your session has already expired? You can copy your edited content before it's lost by clicking the "Copy to Clipboard" button.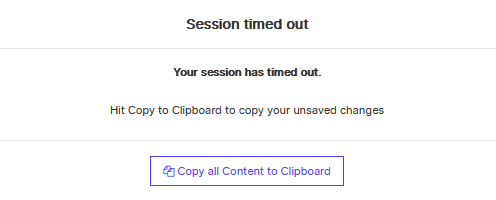 Export File Names
Insights users may have noticed that many exports carried generic names, making them hard to tell apart. Now, Insights exports come with more useful names to make it easier to keep track of them.
Thank you again to all VT Writer users! We hope these features can enhance your editing experience with Writer.
Other Changes
New Features
[VTREAD-1873] - Introduce Grammar as an issue type

[VTREAD-2155] - Bulk edit User roles through a CSV import
Bug Fixes
[VTREAD-2095] - Long words that appear in the Ignore list are still underlined in the results view if in a different case

[VTREAD-2099] - French hover over displayed for English Watchword in results view in some situation

[VTREAD-2088] - A sentence with non-breaking spaces in it is coming out as one long word
Platform Changes
Support for Red Hat 8
Support for AWS Linux
Added inbound IMAP support for exchange server domain\user\mailbox addresses