Instruction for Office365 Admin
The I.T Admin with Office365 permissions will have to follow the steps below to make the add-in available to all or specific users.
Click the Get It Now button, located on the VT Writer login page(https://writer.visiblethread.com/)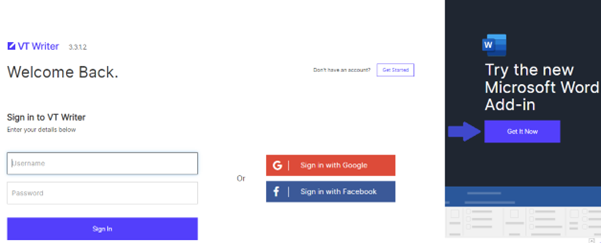 You will then be redirected to MicroSoft AppSource, again click Get it Now
When you click Get it now you will be redirected to Office 365 Admin Center (Integrated apps). From here you can assign users to allow them to get the add-in via their Word application.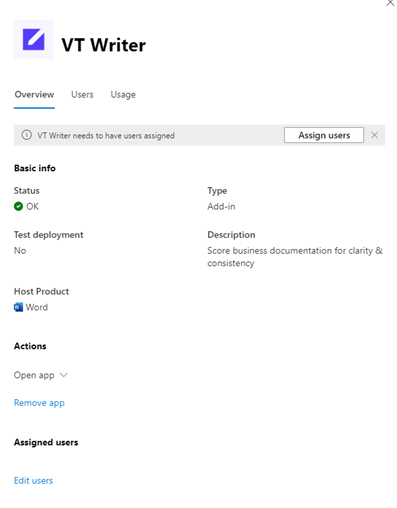 Instruction for I.T Admin that use SharePoint
Add-in manifest file
Deploying the VT Writer add-in will require supplying the add-in manifest file. The manifest file can be retrieved from the VT Writer application at
https://writer.visiblethread.com/add-in/manifest
Deploying Add-In
An app catalog is a dedicated site collection in a SharePoint web application or SharePoint Online tenancy that hosts document libraries for Office and SharePoint Add-ins. To make Office Add-ins accessible to users within their organization, administrators can upload Office Add-in manifest files to the app catalog for their organization. When an administrator registers an app catalog as a trusted catalog, users can insert the add-in from the insertion UI in an Office client application.
For more details see:
Publish task pane and content add-ins to a SharePoint app catalog - Office Add-ins | Microsoft Learn
Instruction for Users
Once the I.T Admin has completed the above step the users can install the Add-In by opening their Word application > Insert Tab> My Add-ins > A pop-up will appear with VT Writer Add-In.